If you're new to the Mac, learning the keyboard symbols that appear in the menus and what keys they stand for is essential for accessing various shortcuts. Not only do the Mac menus use the symbol short form as seen in the screenshot above, but many websites will refer to the symbol rather than the text printed on the keys (? instead of Option, for instance).
With this in mind, here's the Mac keyboard symbol translated to the keys they represent: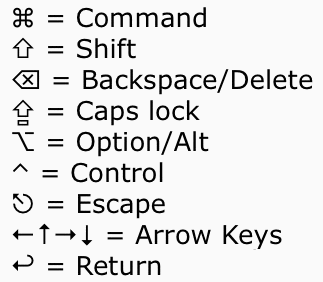 This is the full list in text form, note these symbols only display properly on a Mac:
? ? = Command (sometimes displayed as ? an Apple logo)
? ? = Shift
? ? = Backspace/Delete
? ? = Caps lock
? ? = Option/Alt
? ? = Control
? ? = Escape
? ←↑→↓ = Arrow Keys
? ? = Return
(Refer to the graphic at the top if you're currently on a Windows machine)
Thanks to Pat for suggesting this tip and sending in the list!
http://osxdaily.com/2010/11/07/mac-keyboard-symbols/